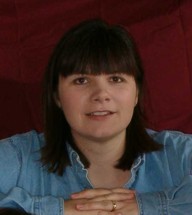 Becoming Stitches:
- is a Canadian, woman-owned business
- is located in a rural community
- opened in May, 2001
- utilizes Wilcom ES-65 Embroidery Studio e1.5 top level commercial embroidery software, CorelDRAW Graphics Suite X4, Adobe Design Premium CS4 (includes Illustrator, Acrobat, PhotoShop), Microsoft Office 2007, Embird 2008 for converting to home embroidery machine formats, and Bernina Artista Editor 5.0 for converting to ART format
- is owned and operated by Jean Gervais
Jean Gervais:
- has been digitizing professionally since 1997, and has additional experience in embroidery production and management, sales, clerical, staff training, embroidery machine operation, maintenance and repair, and graphic design.
- has a Bach. of Computer Science degree with a minor in Mathematics and equivalent to minor credits in Fine Arts.
- is married with three children, living in a rural community where her family operates a sheep farm.